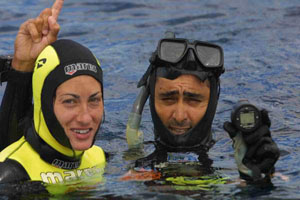 This was Audrey's last record.
During one of her practice dives two days before the actual day of the event she reached the amazing depth of -170 meters (558 feet). The day of the record, October 12th, 2002, Audrey suffered the accident that took her life.
In an homage to her amazing feat, the IAFD which was present during the practice dive recognized it as a World Record.
Up to date no other freediver has surpassed that depth. Only Pipin Ferreras, Audrey's husband, matched that depth in a homage dive that he performed one year to the day of Audrey's passing.
To view a schedule of Audrey's preparation and dive, visit http://www.pipinproductions.com/.